WcDonalds is a minor location in ExplodingTNT videos. It made it's appearances in If Pink Sheep Got a Job and If Purple Shep Got A Job
Appearance
WcDonalds is a small building with quartz walls and a red roof. It has a kitchen with all of the ingredients in item frames above stoves and an island. The is also a room in the WcDonalds for employees only where the boss works. It is also quite spacious.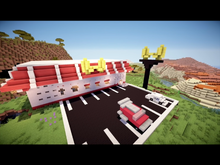 Customers
Staff
Trivia
It is an obviously a parody of the popular fast-food restaurant McDonalds.
In some videos, it is mistakenly referred to as McDonalds, instead of WcDonalds.